The first things you remember when you hear about Turkey is probably sea, Turkish coffee, Turkish airlines, and…medical tourism! Exactly! The inbound medical tourists flow shows a rise of 38% for the last 4 years.
Read on to find out what are the top medical destinations, prices, hospitals in Turkey, and finally…main secret of popularity.
According to the medical tourism statistics presented by the Turkish Ministry of Healthcare, the country has achieved an increment of 520,050 foreign patients for last 4 years.
Turkey expects to host 1 mln foreigners for treatment by the end of 2019 and up to 2 million by 2023.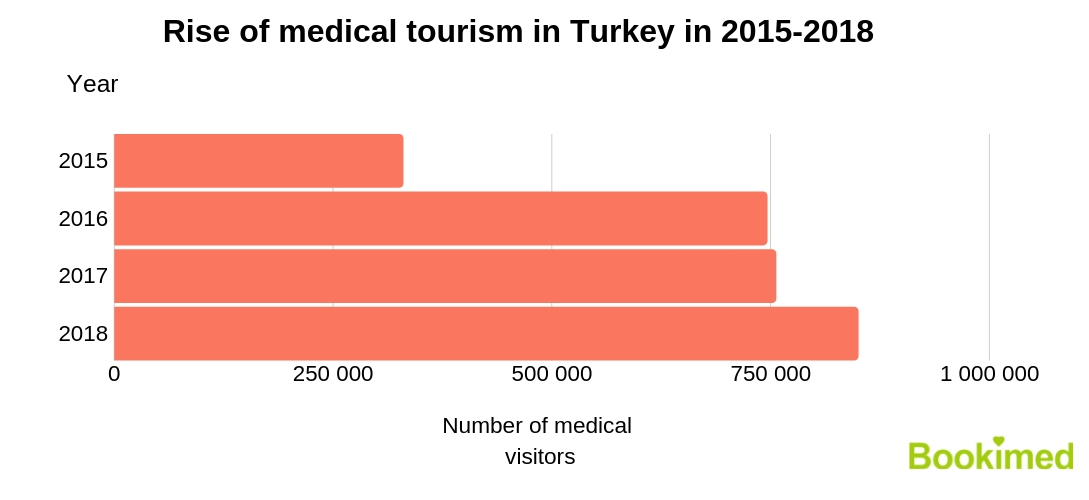 Why do patients prefer Turkey for treatment?

Cost of medical services. Turkish clinics offer competitive costs and help save up to 50% of expenses for medical tourists from the Arab states of the Persian Gulf, Britain, Germany, and other Western European countries. It is explained by the price level in Turkey which is lower compared to these countries.
Moreover, hospitals are interested in foreign visitors and offer discounts for aesthetic procedures.
Quality of healthcare in Turkey. Between 2003 and 2013, the Turkish Ministry of Health implemented the Program for Health Sector Transformation (HTP) to improve medical services provision, increase sector financing and overall workforce. Thus, a new level of medicine in Turkey followed these transformations.
Now, patients from Georgia, the CIS, and Balkan countries are looking here for medical options unavailable at home. Doctors serving medical tourists have trained abroad and applied the most innovative technologies and international developments.
Safe treatments. Over 50 Turkish medical facilities have Joint Commission International Certificate. It confirms that a hospital meets the strictest criteria of high-quality healthcare services — usually, the medical center needs 2 years to prepare for JCI evaluation.
Turkey is the only country with such a large number of accreditations obtained. To compare, Israel has only 30 hospitals with JCI accreditation, South Korea — 28, Germany — 10.
Medical tourism-oriented hospitals. The hospitals in Turkey are divided into state and private ones. While locals prefer to visit state hospitals, private medical facilities are oriented on patients from overseas. Thus, the competition between hospitals makes them employ the best doctors, renovate departments and equipment, conduct scientific research and offer full support to a medical tourist.
Tourists-friendly environment. Tourism to Turkey is on the increase — according to the local Culture and Tourism Minister Mehmet Ersoy, the number of foreigners visiting country increases by 30% per year. The revenue of the tourism field is good support for Turkish economy. And the government makes its best to improve infrastructure, service quality and attractions. Moreover, Turkey is among top 10 travel destinations in 2018 according to TripAdvisor's Travellers' Choice Award.
Medical vacation. For the last several years, people are attracted by an opportunity to combine treatments or wellness procedures with holidays. And Turkey is a perfect option for this because of coastal areas, mountains, Mediterranean climate and rich ancient culture — where anyone can tailor something to enjoy to their liking…and improve health.
Healthcare in Turkey for tourists
Patients with oncology choose Turkey as a place where they arrange treatment in shortest term up to 3 days and be sure in quality of technologies and experience of doctors.
Oncology treatment is among key specialties at university hospitals in Turkey. Oncologists provide therapies according to international treatment protocols of ESMO (European Society for Medical Oncology) and NCCN (National Comprehensive Cancer Network).
A patient can find all possible types of cancer treatment: robotic surgery, radiotherapy, brachytherapy, chemotherapies personalized according to patient's needs.
Local oncologists collaborate with American colleagues from the leading cancer institutions like Johns Hopkins Hospital and apply the latest available developments in cancer research for the treatment of patients. Hyperthermic Intraperitoneal Chemotherapy (HIPEC) is one of them.
The hospitals have equipment of the last generation — TrueBeam, GammaKnife, CyberKnife, Da Vinci Robotic System to make interventions accurate and safe for healthy organs and tissues.
Neurosurgical treatments in Turkey are demanded among foreigners due to experienced specialists and high success rates. Some of the hospitals reach up 91% success rate for the brain and spinal cord surgeries.
More than 1,200 neurosurgeons are practicing in Turkish medical centers. Local medical teams consist of a neurosurgeon, neurologist, neuroradiologist, neuroanesthesiologist, and neurooncologist if necessary. This approach to team formation guarantees a patient that the treatment program takes into account every aspect of the patient's case.
A neuroteam plans all the interventions under MRI control to increase the accuracy of future operation making it as safe as possible.
Among other innovative techniques, there is immunostaining to detect the exact location of a tumor. Patients with brain and spinal cord tumors, arteriovenous malformation, carotid artery stenosis also choose Turkey for the treatment. After the surgery, a patient can participate in a special rehab neurological program to return to regular life.
Treatment of hematology oncology diseases and bone marrow transplant are among the strongest specialties in Turkey. The hospitals closely work with leading medical research institutions including the US John Hopkins Hospital and Memorial Sloan-Kettering Center. This partnership helps to apply the results of the collaboration into the treatment process.
The hospitals have certificates from the Joint Commission International, Turkish Ministry of Health and European Society for Blood and Marrow Transplant. So a patient can be sure in the quality of treatment.
The centers accept adult and pediatric patients with aplastic anemia, leukemia, myeloma and various types of lymphomas.

You might like How much does a bone marrow transplant cost
Turkish clinics accept over 100,000 foreigners for plastic surgeries and other aesthetic procedures every year! They choose Turkish plastic surgeons due to high-quality services and affordable prices which are 2-3 times lower than in the USA or Europe.
Specialized aesthetic centers offer special packages, discounts, and an opportunity to combine beauty procedures with sightseeing or relax at sea.
The most popular procedures are hair transplant, nose job with 3D model, abdominoplasty and liposuction. According to the Turkish Ministry of Tourism, patients from Saudi Arabia, Kuwait, Qatar, the UAE, Germany, the UK, the Netherlands, Italy, Spain, and France are interested in local plastic surgery the most.
Patients, who are seeking dental treatments, decide on Turkey due to the following reasons:
they can save up to 70% for the dental implants, dental crowns, and aesthetic dentistry
local clinics provide a guarantee for the work done
the success rates of complex dental procedures reach up to 98%
local dentists use certified materials produced in the USA, Switzerland, and Germany
patients can combine dental holidays with vacations.
Top 3 hospitals for health tourism in Turkey
Anadolu Medical Center is a multi-specialty hospital opened for people from all over the world. The hospital has over 80 departments to provide you with high-quality medical services. Oncology, urology, bone marrow transplant, neurosurgery, IVF are among key specialties.
Anadolu is a partner of the Johns Hopkins Hospital — No. 3 American Adult Hospital according to the U.S. News & World Report. This strategic collaboration enables Anadolu specialists to implement all innovations and breakthroughs to the treatment process.
Patients looking for robotic surgeries with Da Vinci system, modern radiotherapy with TrueBeam Stx, precise diagnostic tests with PET/CT and much more can find it here.
Anadolu Medical Center is certified by the European Society for Medical Oncology (ESMO) and Organisation of European Cancer Institutes (OECI) for the effective treatment of cancer patients. It has also JCI and ISO certificates.
In 2018, Anadolu was the first hospital in Turkey to receive the accreditation from the Planetree recognition program for the patient-centered approach.
Liv Hospital Ankara and Liv Hospital Istanbul (Ulus) are smart medical centers of a new generation. In 2018, Liv Group celebrated its 5th anniversary.
Over 50,000 medical tourists visit local specialists to get care in oncology, orthopedics, cardiac surgery, and hematology oncology. The hospitals offer treatments with all medical technologies available in the world.
Liv medical teams provide more than 13,200 interventions per year. And they represent some of the highest survival rates in Turkey and the globe: i.e., up to 94% for stomach cancer surgery, up to 96% for heart surgeries, up to 100% for chest operations.
Liv Robotic Surgery Center, Colorectal surgery and Bariatric surgery departments have Certificates of Excellence.
Estetik International's specialty is plastic surgery. A patient can get any change of the body here: abdominoplasty, breast enlargement, blepharoplasty, vaginoplasty, and others.
The clinic has a particular focus on hair transplant and rhinoplasty. Foreign patients visit the clinic to get the most popular method of FUE hair transplant or platelet-rich plasma (PRP) treatment at the early stages of hair loss. The medical team provides over 3,000 hair transplants per year!
Prof. Bulent Cihantimur found the clinic. He is ranked among Top 50 plastic surgeons in the world. He is an author of modern techniques of non-surgical Spider Web facelift and Cihantimur Fat Transfer.
ISO certifies the clinic for meeting the criteria of safe and cutting-edge medical services.
Top doctors in Turkey
Professor Zafer Gülbaş is a specialist of diagnostic and treatment of hematologic malignancies for over 30 years. He is an expert in bone marrow transplant, cellular therapy, and flow cytometry application. Professor Gülbaş heads the Hematologic Oncology and Bone Marrow Transplant Department at Anadolu Medical Center.
Dr. Ali Zırh is a world-known neurosurgeon specialized in movement disorders and deep brain stimulation (DBS). Doctor Zırh has over 25 years of experience and has performed over 650 successful DBS procedures. The doctor serves patients with Parkinson's disease, dystonia, and Tourette syndrome. His achievements are recognized by the Brain Research Foundation Award and the Turkish Neurosurgical Society Award. In 2018, Dr. Ali Zırh received DBS Guinness World Record.
Dr. Safiye Kurt is an expert in aesthetic medicine. Hair, eyebrow, beard, mustache transplants, Ozone therapy are among procedures she performs. Doctor Kurt has treated over 5,000 patients — both male and female — from Mexico, South Korea, Europe, the Middle East, and the Gulf Countries. The UAE Minister of Healthcare is one among her patients. She found Adem and Havva Medical Center oriented for international patients. The doctor is also a member of European Hair Research Society.
Medical tourism Turkey: prices
| Procedure | USA | Germany | Turkey | India |
| --- | --- | --- | --- | --- |
| Autologous bone marrow transplant | from $350,000 | from $115,000 | from $35,000 | from $30,000 |
| Deep brain stimulation | from $70,000 | from $70,000 | from $35,000 | from $16,000 |
| Da Vinci prostatectomy | from $130,000 | from $21,300 | from $18,500 | from $11,250 |
| Hair transplant | | from $3,450 | from $1,800 | from $1,200 |
The costs in the table are approximate. Contact Bookimed manager to get an exact price for the procedure of interest.
Guideline for medical travel to Turkey
Choose an appropriate medical center.
Consider the following factors:
type of a hospital — whether it is a single specialty or multispecialty center
success rates in the treatment of your condition/the outcome of procedure of interest
international recognition, certificates, accreditations
services for medical tourists
location of the hospital.
Contact Bookimed manager to get assistance and find the most appropriate center for your case.
Send medical records to Bookimed manager
Bookimed manager will inform you of best options in your case: hospital, doctor, cost estimate, and treatment travel arrangement.
When you decide what variant is more suitable, we will arrange an appointment with a specialist. With Bookimed, you can go for treatment to Turkey within 2-5 days after submitting a request on our website.
Arrange your medical stay
Bookimed care team will help you with a medical visa, transfer, and accommodation. All issues with medical travel are solved easily and comfortable.
Patients can get a visa online (find more details on Turkish medical visa requirements here). And leading local air carrier Turkish Airlines provides more than 300 destinations to the country.
Treatment and coming back home
Bookimed manager will provide you with all necessary information about your treatment process. Our team will support you 24/7 during your hospital stay and afterward, so you can focus on your recovery.
If you're seeking excellent healthcare — cancer treatment, dental care or plastic surgeries — Turkey is a wise decision. You will save money, find appropriate medical services and discover this beautiful country.